About us
Translated from the Italian TERRA dell UOMO is a human territory. And this defines the philosophy of our salon. Getting to us, a person remembers that he exists not only as a responsible employee or a caring parent, but also as a person who has his own system of perception and sensation .
.
How often do you pour yourself a tea and remember it when it has cooled off? How often do you call two phones at once? How often do you waste nerve cells at a meeting, in a traffic jam, at a parent-teacher meeting? Did this is happening every day?

When the wind ruffled your hair the last time, the sun caressed your skin, the sky surprised you with its infinity? Half a year ago on vacation?
For ten years, Terra dell Uomo salon has brought people a sense of themselves. Appearance is only an expression of the inner state. Visiting our salon, the woman will not hear a banal compliment: "what a good hair color you have got! What a fashionable manicure!". She would rather hear, " You have such beautiful hair! And such gentle hands!". Our experts as if reveal a veil and help your appearance to tell about you in the language of beauty.
We are very pleased that there are a lot of men among the clients of our salon. They are the most strict and demanding guests, and we always focus on their comments, work on the preparation of comprehensive programs and improving the service.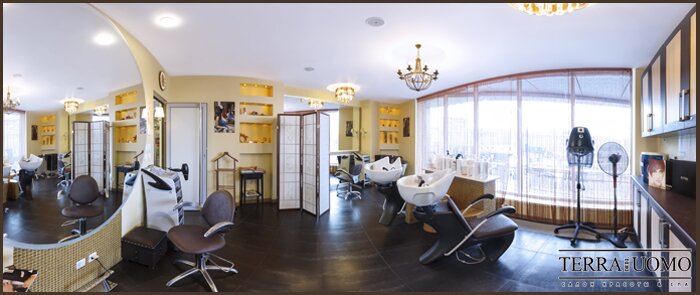 Since 2010, the salon has been located in the North tower of the Moscow international business center "Moscow city". This moving is not accidental. We have just shortened our customers(апостроф)way from work to our salon. Now you can come to us immediately after work, devote yourself one and a half or two hours and wait for the traffic jams at the same time, and then come home beautiful and rested. You can come running to us for an Express procedure during a lunch break or quickly put yourself in order before an unplanned summit.
We really appreciate the loyalty of those clients who continue to visit our salon after moving from Leninsky Prospekt. Despite the fact that there are a lot of worthy salons on Leninsky, they are accustomed to the talent and professionalism of masters of TERRA dell UOMO , European service and sincere attention and do not want to part with us.
We belong to the category "Business".But it is not important. The important thing is that TERRA dell UOMO is a human territory.
We belong to the category "Business".
Not that important. The important thing is that TERRA dell UOMO is a human territory.